The New Mexico Orchid Guild usually meets on the second Sunday of the month at the Albuquerque Garden Center, 10120 Lomas Boulevard Northeast. General meeting commences at 1:30 PM, arrive a half hour earlier for the Growers' Forum.
                      Congratulations to Sean Houtman.                                            His plant was selected for the "People's Choice"     award at The Mystery of Orchids show on May 3rd.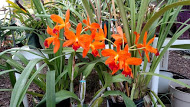 Pot. Love's Passion 'Island Romance'
Join us June 14th when our guest speaker will be Fred Clarke of Sunset Valley Orchids speaking on Australian dendrobiums.